The growth of
Indian Infrastructure
nation-wide over the last couple of decades has not been consistent and well planned. This accounts for Transport, Food, City/Town Planning and various arenas.
One area where Indian Infrastructure has been doing well (largely by having opened it to the private sector) is '
Telecom, Network reach, Voice and Data accessibility
.' Data on actual network access has not been easy to get given the diversity off the players in the field. This
Internet usage statistics
(IWS) seems to ignore mobile users who now have some form of Internet access.
Mobile phone usage
in India ranks 3rd in the world (ranking China and the EU ahead of India.) An independent study mentions that 40 million users access the Internet from Mobile phones. A
paper
by Dr. Ashok Jhunjhunwala and team illustrates barriers in technology while expanding India's telephone network (which made major upgrades in 1991-2010) incrementally improving accessibility.
Today, urban and rural users of telephony in India rely heavily on mobile phone networks. Access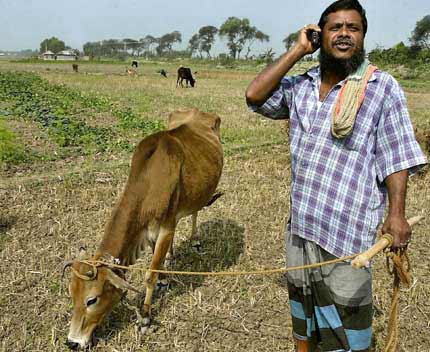 ibility in rural areas has also been growing. I was impressed by the
availability of teleph
ony
, mobile network and broadband data access in remote estates south of the eastern ghats. The main user community are villagers around the area, while the nearest towns are located almost 200km away from the main ghat sections. The
cost of voice/data services
in India has been at an affordable level in comparison to other countries and regions.
Technology entrepreneurs are now relying on continuing increase of users to push solutions through mobile telephony. Every business, and therefore other infrastructure segments now have an opportunity to reach more people through communication.
Applications
targeted at farmers to help them in pricing their produce and planning their crops are good examples.
The volume, availability and affordability of telephony in India has been fuelled in part by the Government's Spectrum allocation and largely by corporate pricing wars across multiple players and entrants.